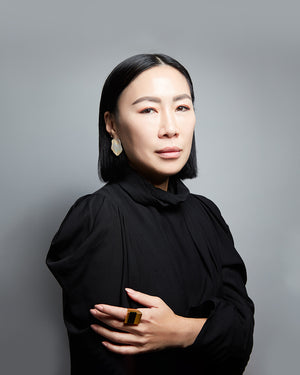 The Story
When I started my brand in 2013 I decided to use my Chinese name. It was a way for me to define my work life in New York, where everyone knew me as Jennifer, my Americanized name; and to give a new identity to the characters that my grandparents chose for me when I was born. Incidentally MING YU WANG means King of Jade so maybe my path to making jewelry was already laid out.
After graduating from FIT, I started out working in apparel, where I learned about form and structure. The concepts of draping fabric and how to connect a material's shape and form to the body became the foundation to my designs. I quickly got turned off by fast fashion and started drifting towards pieces that were designed with longevity in mind. Something that could be passed down and cherished, just like a name. I found myself making bold statement jewelry as a way to say something in this industry. It should be fun and as loud as you want it to be.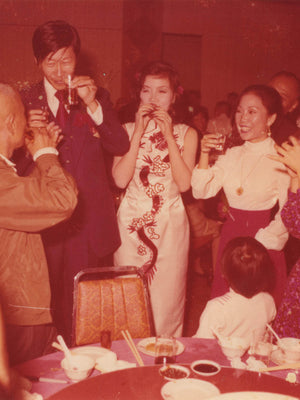 The idea
of wearable art was first introduced to me as a child growing up in Taipei, watching my mom and her friends playing Mahjong, stylishly dressed up, until the early hours. At the table all the attention is on your hands and the subtleties you make over your next moves. I remember just staring quietly at how fabulous everyone looked when they transformed into glittering movie stars on these rare nights. There is a deep connection to my heritage in these memories that I couldn't place until recently. I feel that the inspiration for my designs came from these moments. Our family, culture, style and our stories were all on display at one table. This is how I envisioned statement jewelry then and for now.
On a parallel path to these designs also came my life as a mom. The reasons for reducing harmful waste and improving the condition of the planet that I'm leaving behind for him became even more so important. My collection is made entirely of recycled sterling silver and recycled brass, with ethically-sourced gems and cultivated freshwater pearls. I'm very grateful to be able to tell my story through my work and I hope it brings you as much happiness as it does for me. Thank you for truly being a part of my journey.